Sidan innehåller annonslänkar
inSPORTline
Massagestol Adamys
Prisuppgifter
Läs mer och köp
Massage Chair inSPORTline Adamys is a top class product in this category offering many functions and massage modes. Featuring a high-quality upholstery of synthetic leather that is practically indistinguishable from the real leather and a solid frame with 150kg weight capacity, maximum comfort is guaranteed. The main advantage of synthetic leather is easy maintenance to ensure long-service life. Massage system consists of 79 massage airbags and 21 massage hands with 8 added magnets with the strength of 300 gauss. Massage Chair inSPORTline Adamys is equipped with a function for automatic detection of massage points according to user's body curves. The automatic adjustment of massage airbags takes a few seconds at the beginning of each massage. Silent and smooth run is provided by 200W motor.
Massage Chair inSPORTline Adamys can massage full body or individual body parts. You can choose from 6 massage modes, including favorite massage techniques such as shiatsu, kneading, tapping and knocking. These massage modes are available in individual programs. The program menu offers 6 automatic massage functions (comfort, ease, ache relieve, full air pressure, waist twist, waist stretch) and manual programs with 3 options (fixed, partial, overall). Compared to lower-class models, this chair is equipped with the magnetic massage function, known as "magnetotherapy". During this function the magnetic field provides deep stimulation of nerves and cells, which adds to the comfort and effectiveness of massages. Moreover, Massage Chair inSPORTline Adamys offers advanced 3D massage mode, in which individual massage heads and airbags move to all directions (up-and-down, from back-to-front and side-to-side). It provides you with the feeling of being massaged by multiple hands and fingers at the same time. If none of the programs meets your needs, then you can create and save your own personal setting (memory for 3 user modes). This will allow you to enjoy your favorite massage just with a single button press. For maximum comfort and best massage experience Massage Chair inSPORTline Adamys enables the adjustment of massaging intensity and speed. This function can be used in any massage mode, be it a preset or manual program.
Massage Chair inSPORTline Adamys offers not only high quality massage modes but also other functions which will be appreciated, such as the automatic back heating function and knee heating function which use carbon fiber as infrared heating source. The chair can be heated to 40°C-50°C which is an optimum temperature for warming up human body. Due to its wavelength far infrared rays are greatly absorbed by human body, where they activate cells and promote metabolism. Important features are also transport wheels for easy manipulation, cell phone MP3 player function, built-in speakers or VFD display which shows all necessary data. You can enjoy all these massage benefits in the comfort of your home and whenever you want! Massage Chair inSPORTline Adamys is suitable for the treatment of health problems as well as for regeneration after sport activities, after hard day at work or to experience relaxing atmosphere while listening to your favorite music.
Technical description:
Professional massage chair
Full/partial body massage
Angle-adjustable backrest/footrest
Back heating function (40°C-50°C)
79 massage airbags
21 massage hands
8 magnets (300gauss)
Transport wheels
LED indicator on armrest
VFD display
Speakers
Cell phone MP3 function
Power: 200W
Max power consumption: 200W
Assembled dimensions: L138 x W93 x H135cm
Max chair length during operation: 220cm
Material: synthetic leather
Max user weight: 150kg
Weight: 130kg
Programs and functions:
3D massage function (up-and-down, from back-to-front and side-to-side motion o massage rollers)
6 massage methods: shoulder grasping, kneading, tapping, shiatsu, kneading & flapping and 3D
5 automatic massage functions: comfort, ease, ache relieve, full air pressure, waist twist / waist stretch
3 manual massage options: partial, fixed, overall massage
5 levels of massage intensity
5 levels of massage speed
Adjustable position of massage heads / speed level / massage options
Memory for 3 massage modes
Automatic detection of body position
Heating of knee area
Benefits:
Fatigue relief
Blood circulation improvement
Muscle tension relief
Muscle regeneration
Relaxation
Muscle pain reduction
ARMS AIR PRESSURE MASSAGE
With 28 airbags on each side of the arms, focus on hand Sanli point, Neiguan point with pulse air pressure massage, provide you rhythmed pulse point stimulate, completely relax from arm to finger, refresh yourself.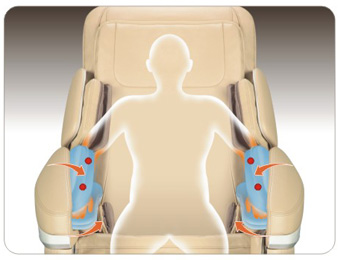 BUTTOCKS AIRBAGS MASSAGE
Set with airbags massage equipment according to human buttock curve to completely cover and massage thigh. Air inflating and deflating of different airbags and vibration alternately can stimulate Huanzhong and Changqiang points to reduce redundant proud flesh.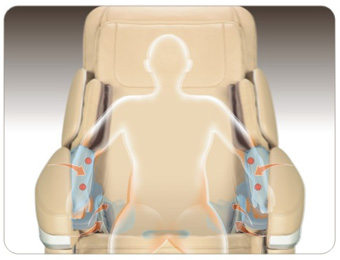 CARBON FIBER FAR INFRARED HEATING FUNCTION
40°C-50°c back heating function can relieve coldness and pain on your back. The emissive far infrared wave length coincides with human body wave length, so the energy can be absorbed by human cells, which can activate cells and promote metabolism.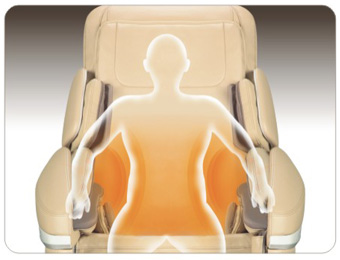 CHEST AND SHOULDER MASSAGE
With 4 airbags on upper arms, combined with intelligent massage hands, focus on Jianliao point and Naoshu point to massage, make your upper body obtain enough stretch.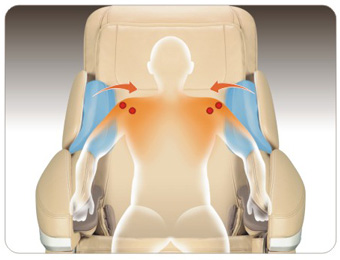 ADJUSTABLE HEAD CUSHION DESIGN
Human design head cushion can be adjusted freely within 10cm to fit for different human height and give you exclusive head massage.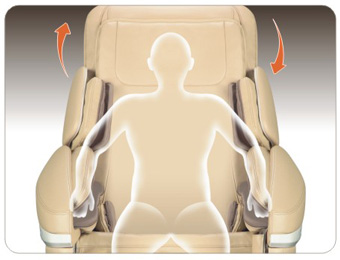 MP3
Innovative music interactive therapy will bring you to a peaceful world. Hearing and feeling together give you fresh massage experience and effect.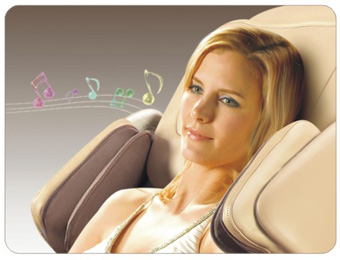 WAIST STRETCH
This creative function is based on the chiro conception. It can widen the space between vertebral body to avoid bone spur and cartilage oppression on nerves. In this way, herniated disc and muscle stiffness problems can be solved.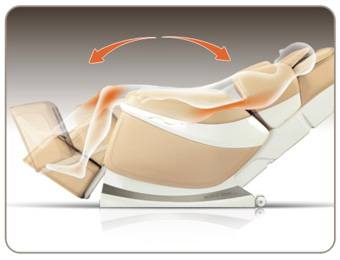 EXTENDED CALF & KNEE HEATING
The calf rest length can be adjusted according to the user's height. The maximum length can be stretched to 23 CM to make sure the whole body get form fitting massage. Matched with knee carbon fiber heating skill, this calf massage can stimulate LiangQiu and DuBi acupuncture points to promote leg blood circulation and avoid or relieve some relevant knee joint symptoms.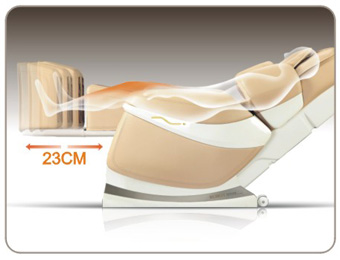 LINKAGE ARMREST
Armrest can automatically slide according to the backrest tilt degree. When the chair is under being adjusted condition, the user can massage the hand and waist in a natural posture.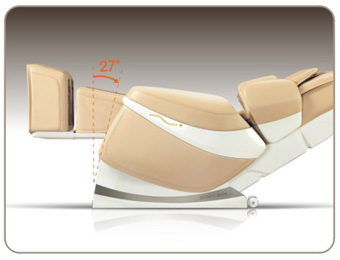 THAI SOLE GUA SHA MASSAGE
Emulational hand touch with advanced roller technology can supply Guasha massage like professional massagist. Massage focuses on Yongquan point on sole, no matter by gently steady but also gradually strong massage can bring unprecedent comfort and enjoyment.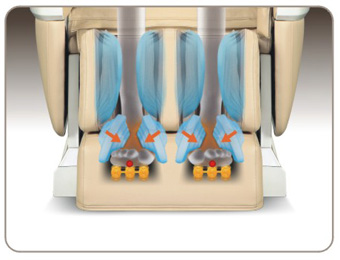 LEG AIRBAG MASSAGE
Different shapes of airbags full wrap on legs, ankle and foot, massage on foot Sanli point, Taixi point, Kunlun point, press, stop, relax interactive air pressure massage, make you feel good and achieve harmony between man and nature's realm.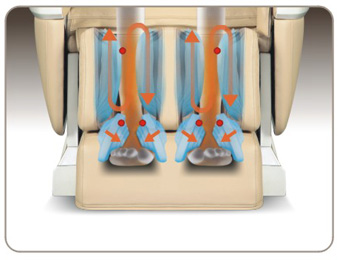 MAGNETIC THERAPY
Magnetic therapy with accurately positioned 8 300CC permanent magnets can improve human low-grade magnetite situation by stimulating calf reflect points.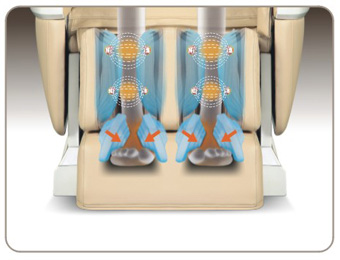 Kategori: Massagestol
Artikelnummer: 8811112-2